I might as well get this out of the way right at the start: I am a Trekkie. I have tried to love Star Wars and I can appreciate it for what it is. But I have just never been able to get into it and I know not too much about the franchise (spoiler alert: I think Darth Vader is Luke's father and Luke is Princess Layla's sister which caused some family awkwardness all around).
However… when you put a nice looking Star Wars livery on a 737, I can sway my sci fi space nerd alliances for one morning. This week (on what was appropriately May 4th), Alaska Airlines unveiled their newest special Disney livery.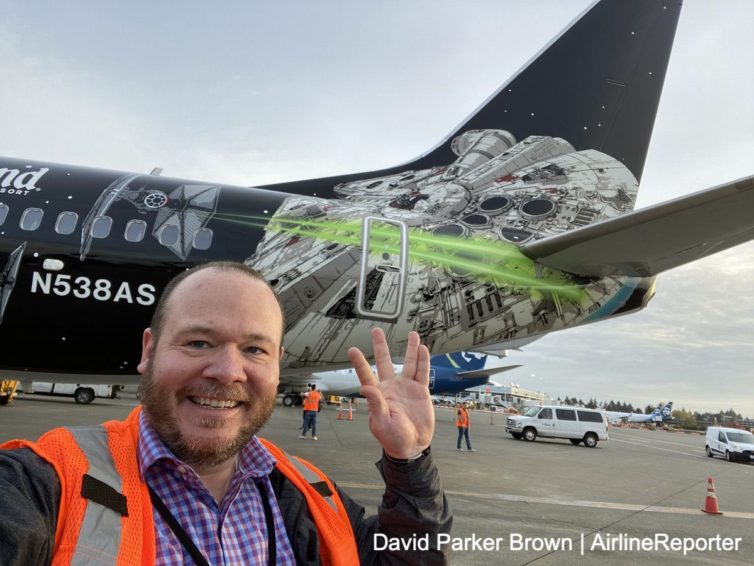 It has an eye catching black background with many Star Wars-themed designs and a beautiful green Millennium Falcon "emblazoned" onto the tail. And this isn't your rattle can paint job. It took 228 gallons of paint, 540 work hours, and over 27 days to complete. 
This is the seventh Disney-themed aircraft for the airline; this one celebrates Star Wars: Galaxy's Edge. The aircraft's official name is "Star Wars Transport to the Disneyland Resort," but you can just call her "SWTttDR" for short.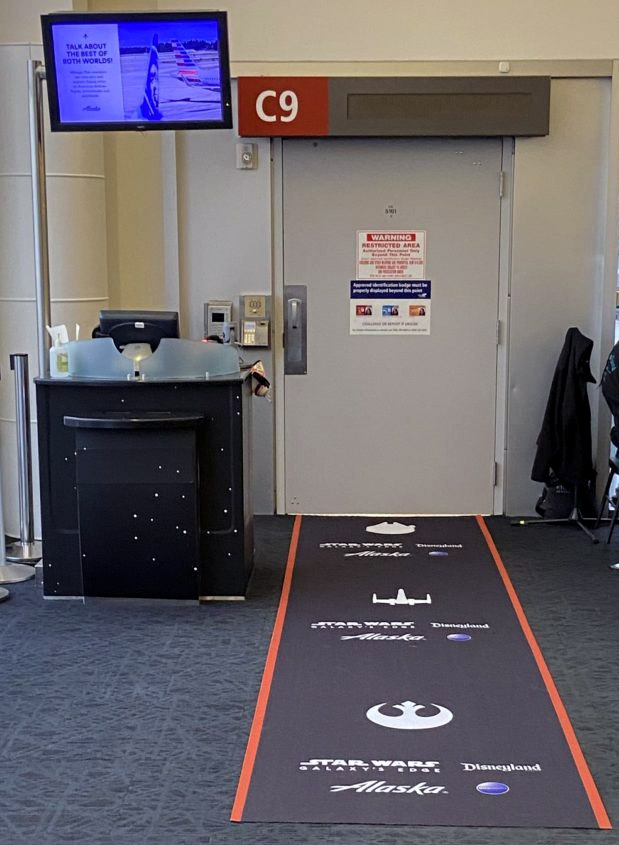 These sorts of media events are always fun to cover. The airplane is obviously a big part of it, but there is often a party-like atmosphere to celebrate as well.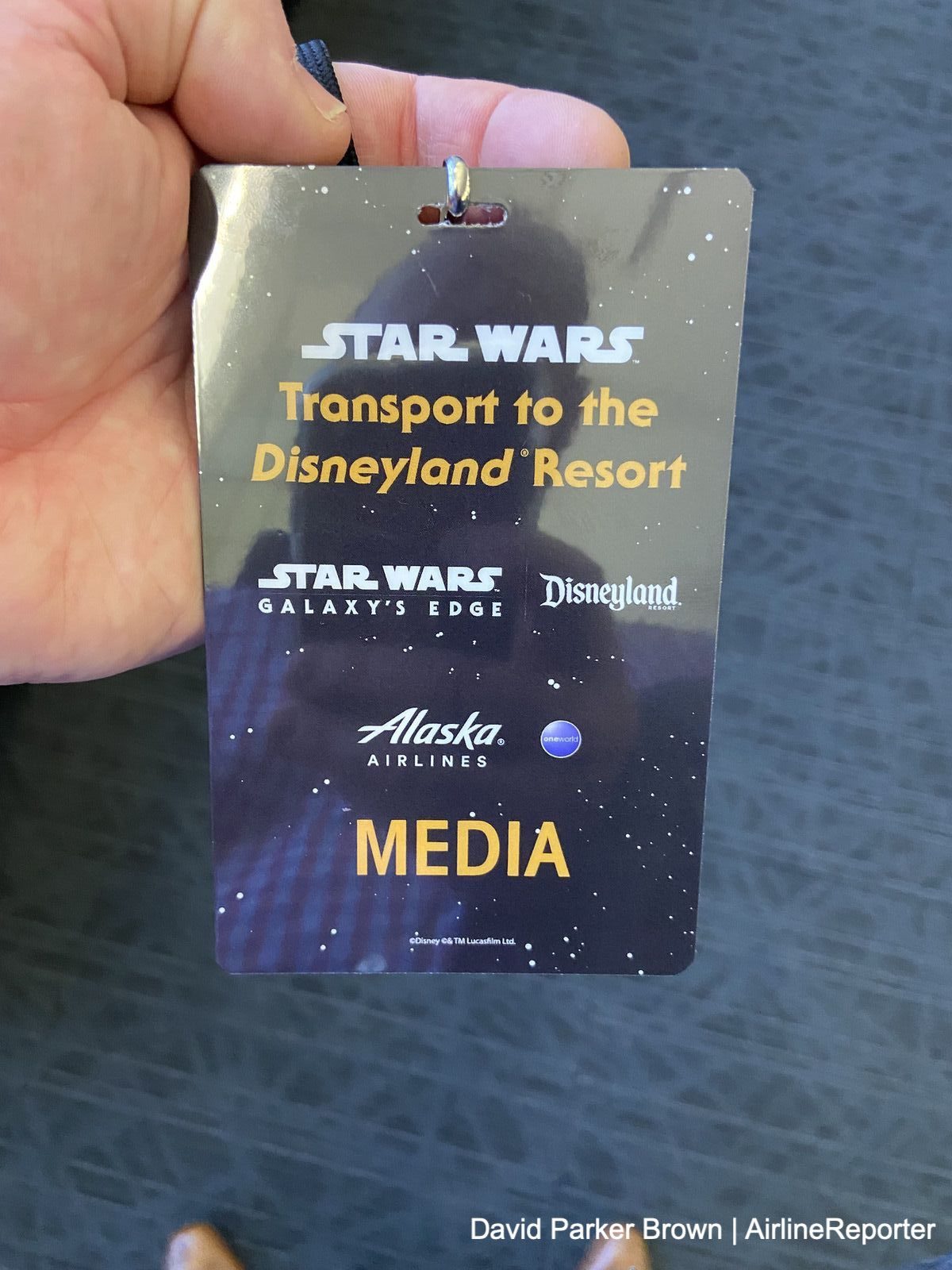 Alaska even rolled out the Star Wars-themed carpet at the gate. I had a boarding pass to nowhere (to get through security) and when I checked in, I was given one of the best media badges.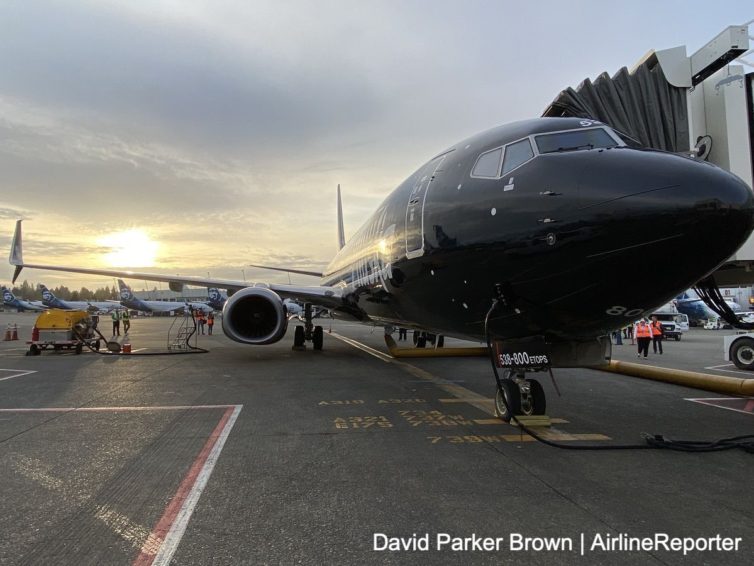 Like with most liveries, you can't fully appreciate them unless you are up close and personal. Luckily, we had the opportunity to spend some time on the tarmac. I have to say, even though I am a Trekkie… I like this livery. In a sea of mostly white or light colored aircraft out there, seeing one in black, with striking colors is a treat. 
It's a Porg 😍
– Alexis

— Alaska Airlines (@AlaskaAir) May 4, 2022
One nice touch was the cute little creature on the winglet. I had no idea what he was or his name (a Tribble I would know), but the fine folks at @AlaskaAir cleared things up for me. I guess I need to catch up on my Star Wars movies.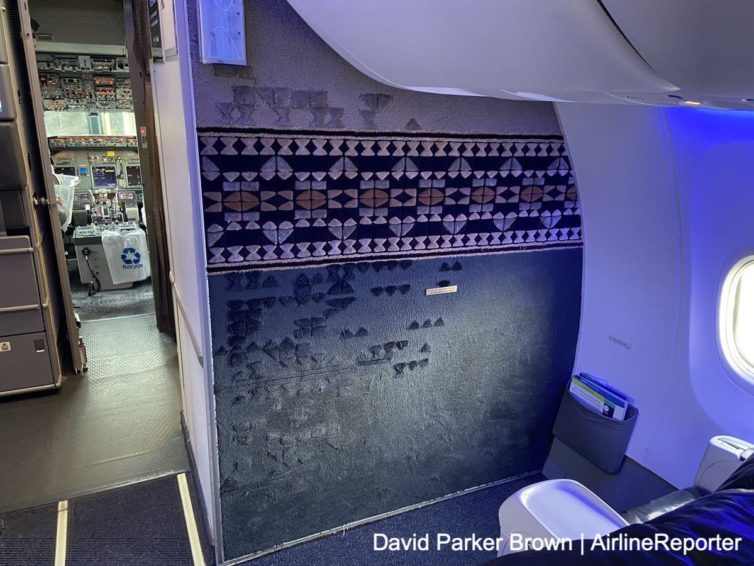 I was told that this aircraft was one of the few remaining with the classic bulkhead design. I got AvGeek goose bumps and asked if we could tour the inside of the plane — yes we could! As the other media were taking photos of the Star Wars themed goodies, I was more concerned with the bulkheads (and that probably raised a few eyebrows).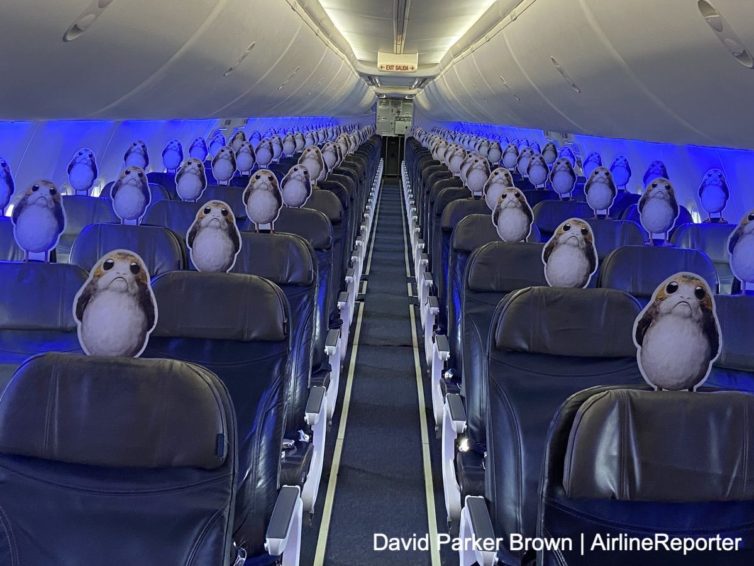 Although there will be nothing permanent letting passengers know this is a Star Wars plane from the cabin… I did confirm it has Space Bins — which seems fitting. After our time was up on the aircraft, we were escorted back to the gate area with some excited awaiting passengers. It was a select few who were either radio contest winners or (M)V(i)Ps.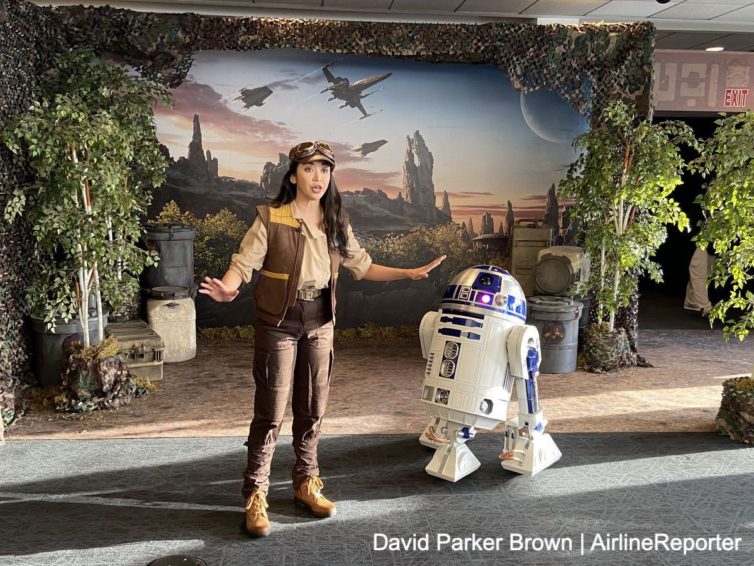 It didn't take long and I recognized some beeping sounds coming from the other side of the room. Although I might have not known the about the cute little dude on the winglet, I did know that this special guest was R2-D2. 
Soon after he graced R2-D2 with his presence, we had a visit from some pretty aggressive storm troopers, who were in legit costumes that you won't find at your local party store. 
When the fun settled down, the flight started the board. It took off and flew to Santa Ana, with a stop in San Francisco. Then it went into service yesterday morning. 
What do you think about the new livery? And are you a Trekkie, a Star Wars fan? Or a bit of both? Does your affinity for The Force or Warp Drive sway your thoughts on the design? Leave your thoughts in the comments.
On a more personal note… this event was extra special to me. As I shared not too long ago, my wife Brittany passed away last year. Not only was this the first AirlineReporter "field assignment" I have been on since April 2020, she was a huge fan of Disney. And I mean a really HUGE fan. She would go to Disneyland a few times per year and I have had the "opportunity" to watch pretty much every Disney movie at least six times (that rooster in Moana is the best, right?).  
I never got to go with her on any of her trips and that is pretty lame. This might seem just like a simple "new livery," but it was more for me. Not only did I enjoy getting back to covering an airline story, but I also felt I received a big thumbs up from Brittany. It reminded me that sometimes an airplane can be more than just an airplane (yup, getting philosophical here). And an example of that pulled up to its gate while covering this story: One of Alaska's Honoring Those Who Serve 737s.