A few years ago Etihad Airways set out to streamline itself. After hitting hard times and running into fierce competition, it cut routes, cut costs, and invested in a more fuel-efficient fleet. And earlier this year Etihad announced a long-awaited return to profitability. So that part of the transformation seems to be working.
But did the passenger experience take a hit from the airline's belt-tightening? We had a chance to find while flying business class on their 787-9 Dreamliner, a staple of their leaner long-haul fleet. Read on for plenty of photos, videos, and opinions on the experience. And at the end of the story we have some fresh news about Etihad's onboard product.
Arriving at Dulles
Our flight was in business class from Washington D.C. to Abu Dhabi. I love planespotting at Dulles, especially from onboard those goofy "mobile lounge" buses.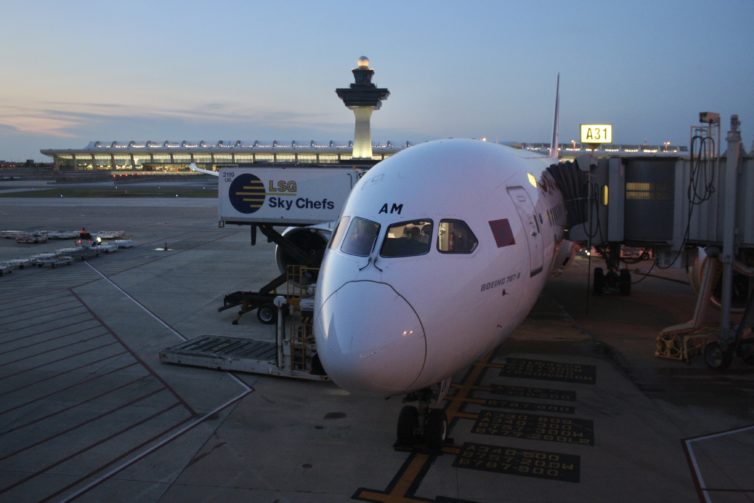 Etihad's Verified to Fly program allows you to confirm your COVID vaccine related documentation in advance, which scores you access to a separate shorter check-in line. Definitely take advantage of if you can — it can mean major time savings at the airport.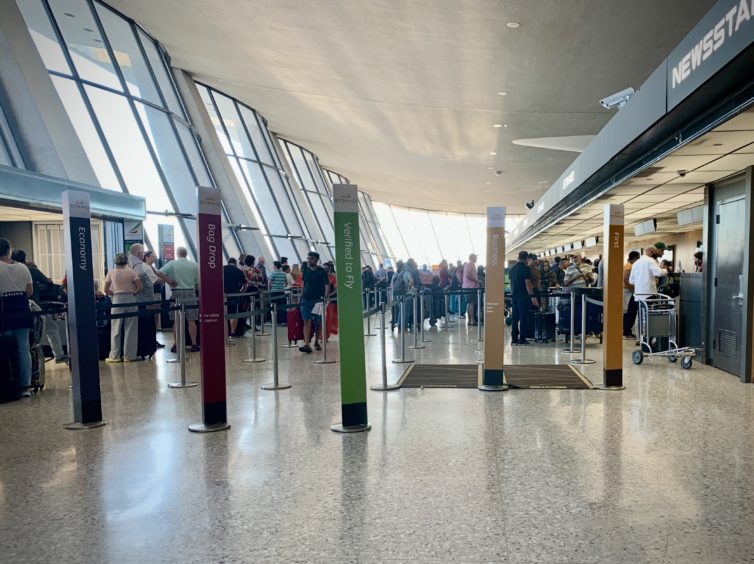 The Etihad app is simple but well designed and provides plenty of useful features, like a timeline of your trip with information on check-in wait times.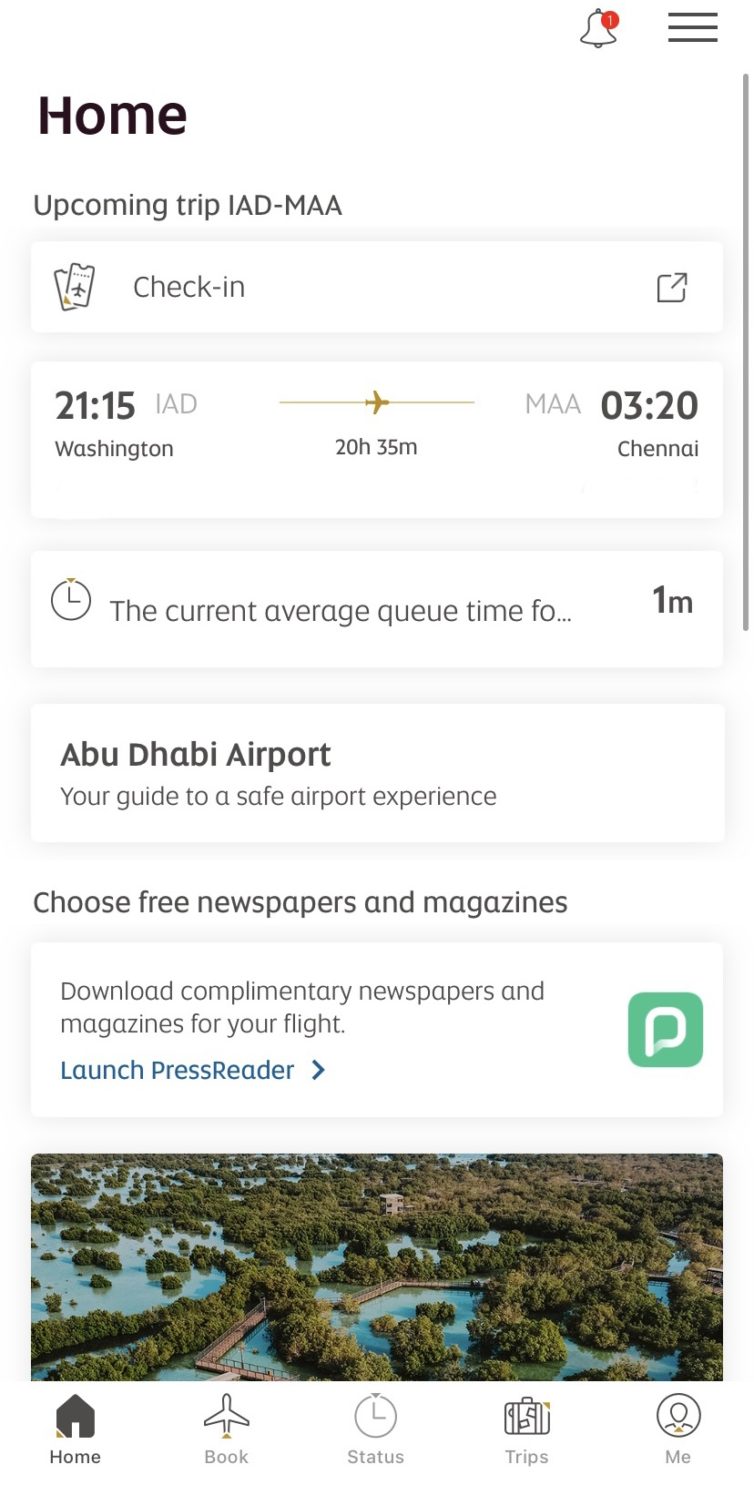 The airline used to have its own lounge at Dulles, and you can still see the entrance from the concourse, but it isn't operational now. Premium cabin passengers get to use the Virgin Atlantic clubhouse nearby.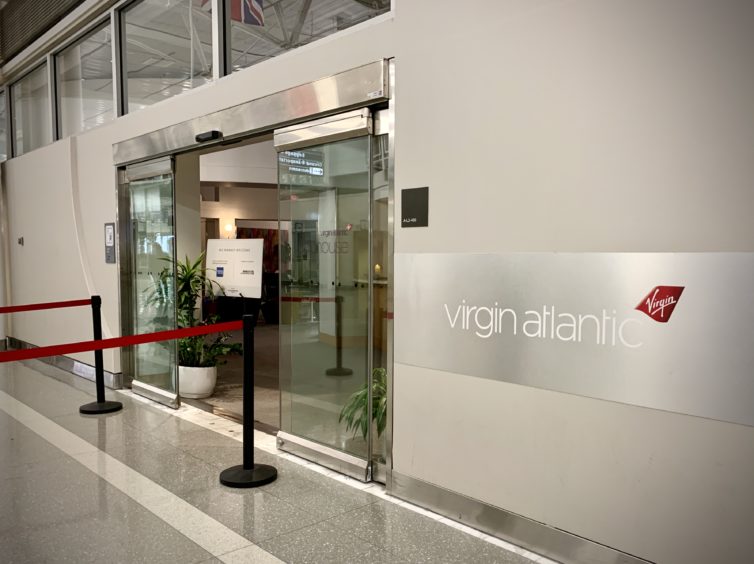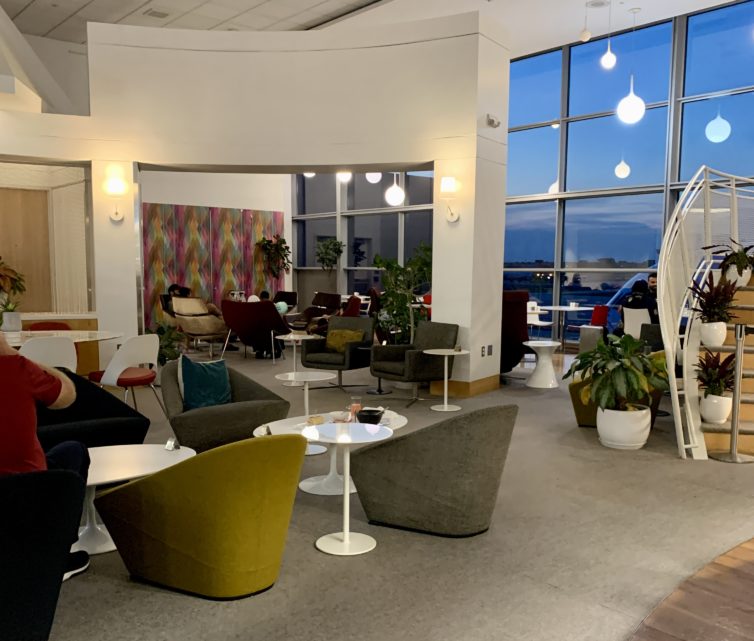 Dulles' Virgin Atlantic lounge stoked controversy recently for offering two tiers of service: only basic self-serve food for fancy credit card holders and better made-to-order food for premium cabin passengers. I was in the latter category this time, and had access to all the good stuff.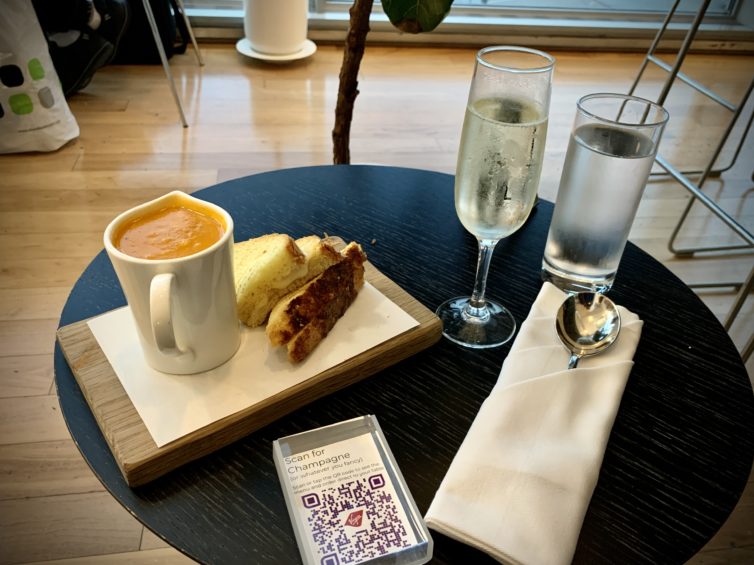 The sun set and it was time to get onboard our Dreamliner, sporting Etihad's gorgeous livery.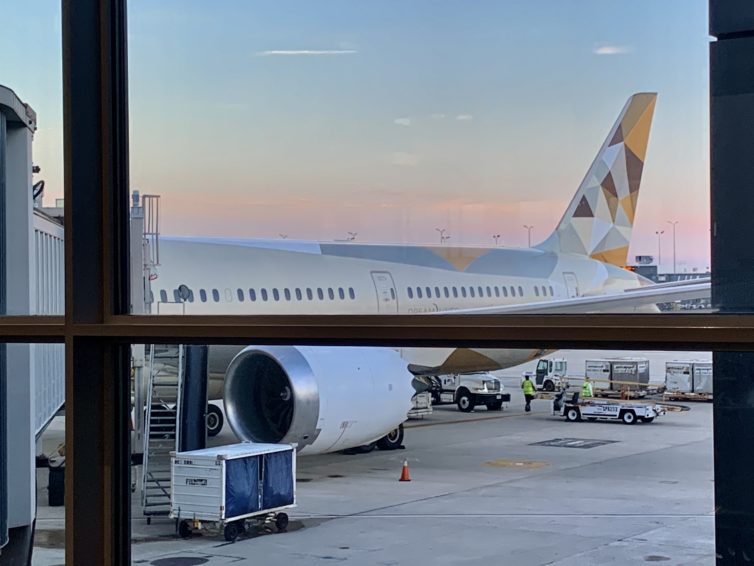 Meet the Seat
Etihad's Dreamliner business class seat isn't the newest design, but it holds up well for its age. There's a mix of forward and rearward-facing seats and everyone has direct aisle access.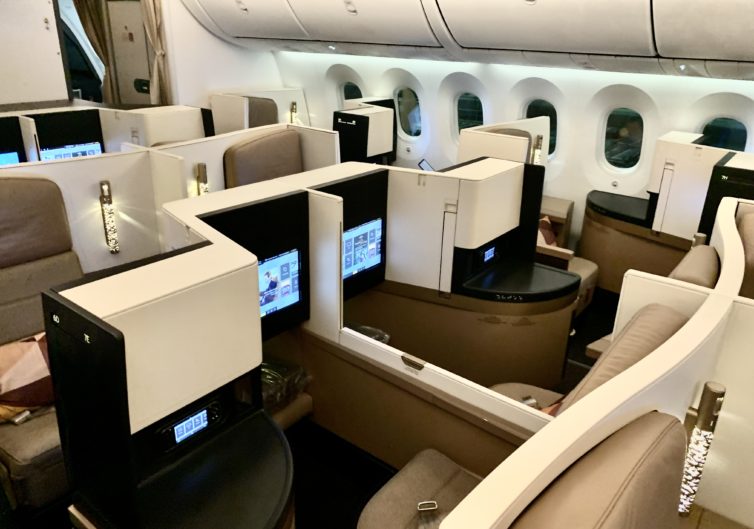 Some, but not all, of Etihad's 787s also have a first class cabin. On those Dreamliners there's two separate business class cabins, a larger one behind those doors, and a mini-cabin sandwiched between the main boarding door and the first class cabin. I snagged a forward-facing window seat in that mini cabin, which felt especially private and cozy. The seat in front of me was curtained and blocked off, probably as a crew rest space.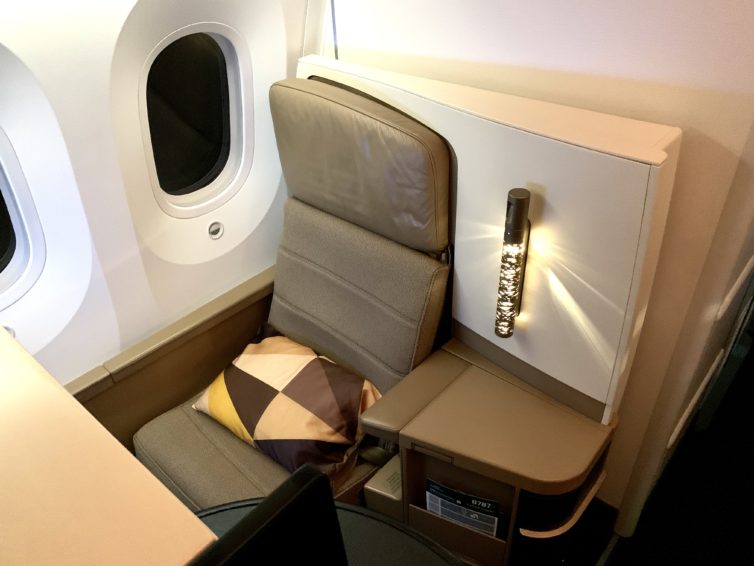 Which seats are best? If you're a solo traveler, forward-facing window seats are the clear winner. They're the most private and are closer to the windows than the rearward-facing window seats.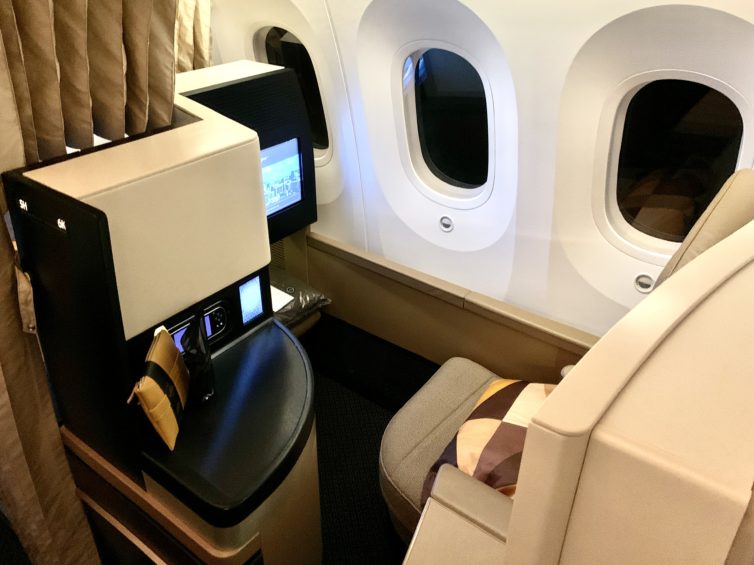 Couples may like the paired forward-facing seats in the center section, though if you're flying solo (or get tired of your partner) you can raise a divider that makes those seats more private.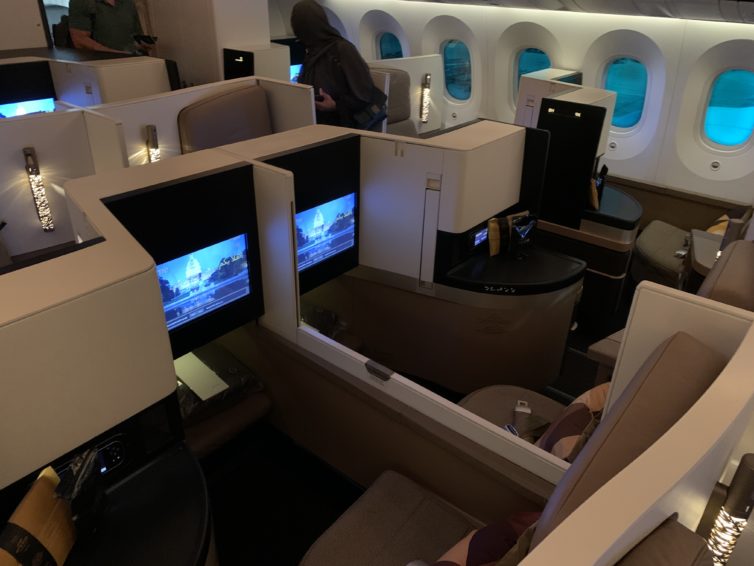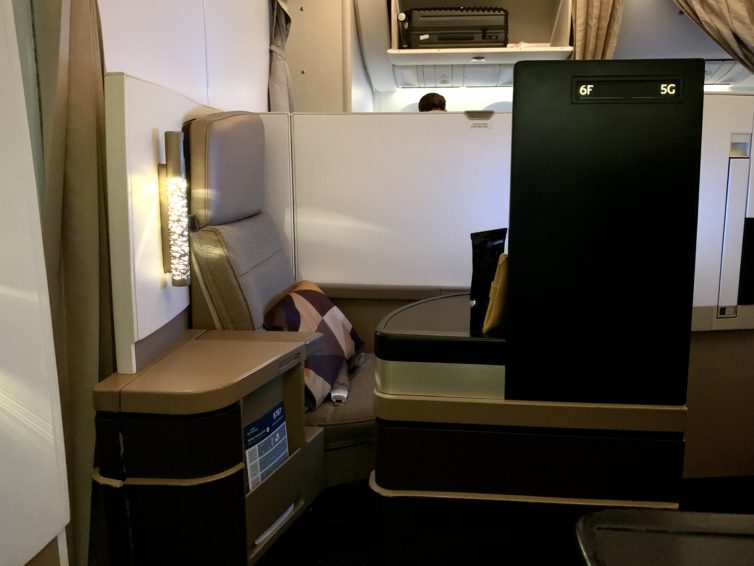 Rearward-facing seats on either side of the aisle are the most exposed. So unless you love the novelty of flying while facing the tail they're best avoided if possible.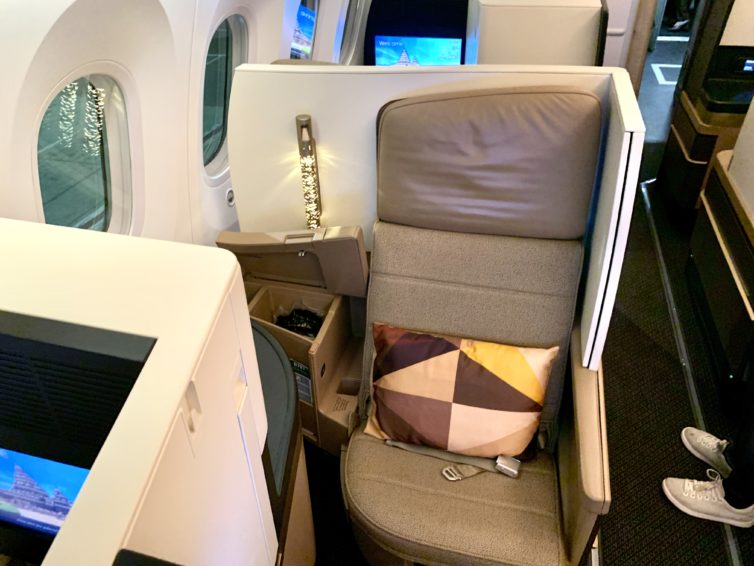 Even the forward-facing window seats have a direct line of sight to multiple other seats. Etihad's newest business class seat on their A350s are suites with doors, making them the winner for privacy. Still, the Dreamliner seat holds up well.
Though Etihad is based close to Emirates and Qatar, their cabin design styles couldn't be more different. Emirates goes for a blingier look, while Qatar does darker finishes with lots of grey and burgundy. Etihad offers a more subtle and understated style, with lighter earthy tones and a select few focal design elements, like these seat-side lights.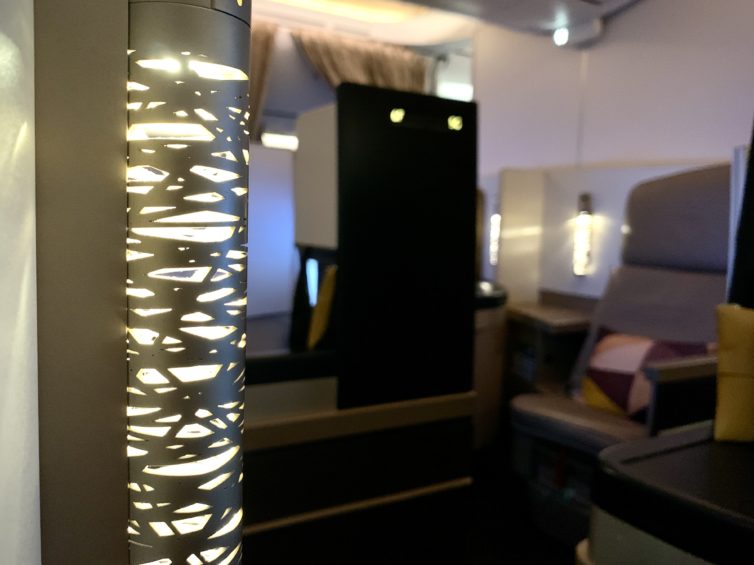 I got settled in with a glass of sparkling wine.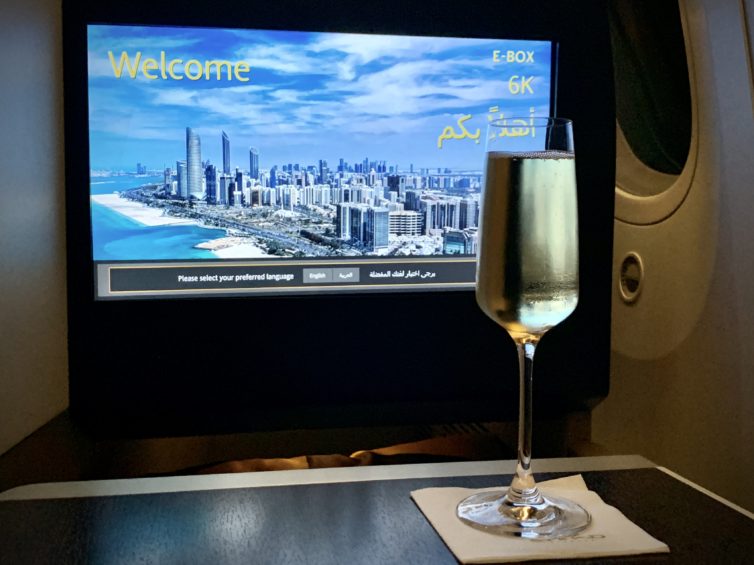 There were two kits waiting for me at the seat.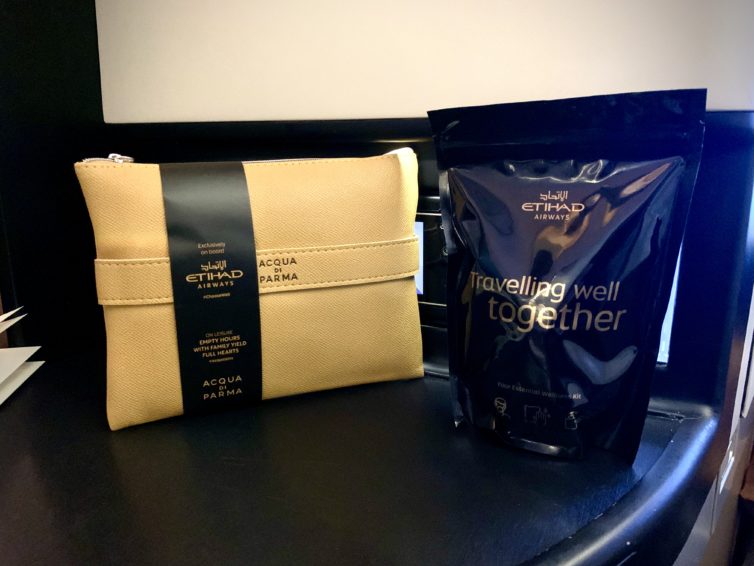 The first was a "traveling well together" bag, targeted at inflight health and COVID safety. It included hand sanitizer, wipes, a simple mask, and a cloth ring called a snood that you could use to sort of cover your mouth while sleeping.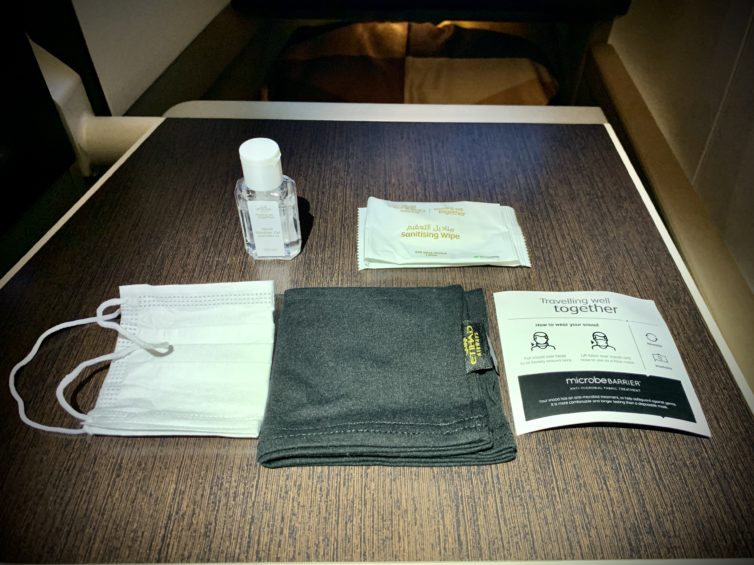 Then there was the standard amenity kit, made by Acqua di Parma. The contents were simple — just some lotion, a sleep mask, dental kit, and a small sample of perfume.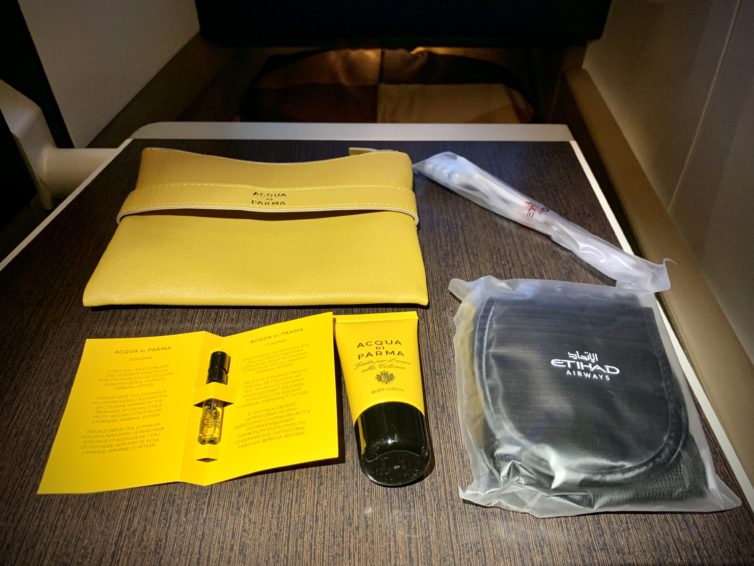 Hitting the Skies
It was a nighttime departure so there wasn't a whole lot to see out of the window.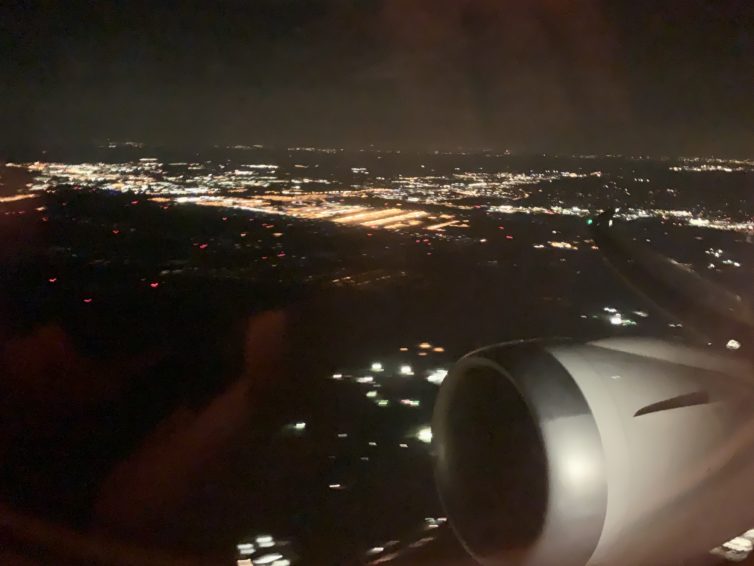 Soon we were well above the scattered clouds and on our way to Abu Dhabi. The entertainment system's moving map had a lot of functions, though my inner AvGeek noticed that the wings on the plane icon were awkwardly disproportionate compared with the fuselage.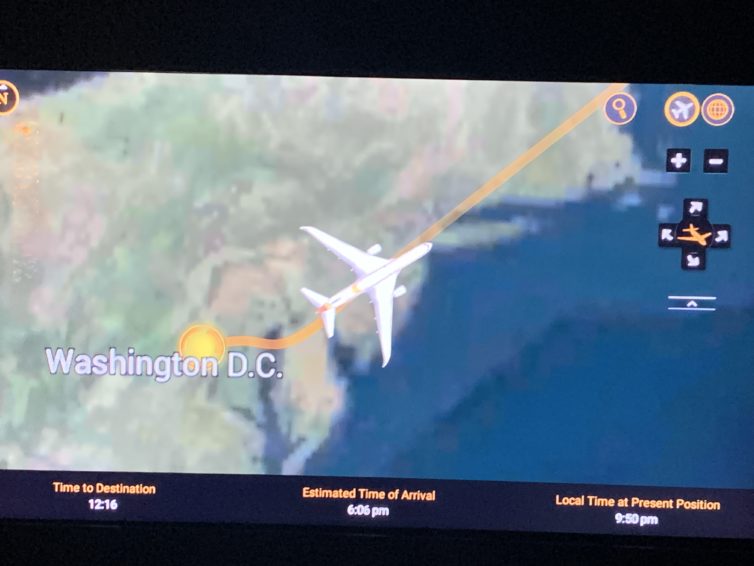 The dinner service started right on time and progressed efficiently. To help make that happen, Etihad's flight attendants take your complete meal order while still on the ground. So make sure you look over the menu as soon as you get to the seat.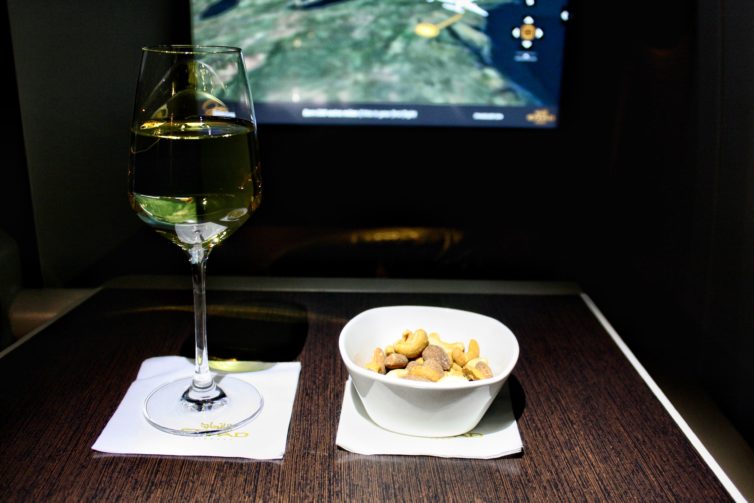 The Arabic mezze option felt like the best way to kick things off.
The beef with couscous was amazing.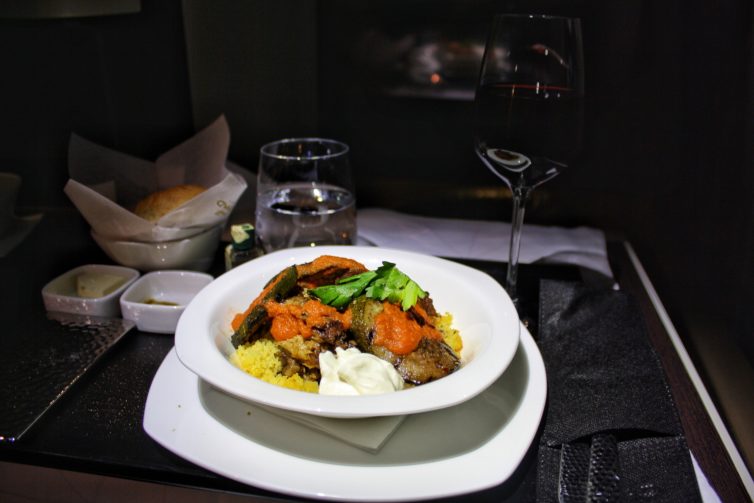 As was the dessert.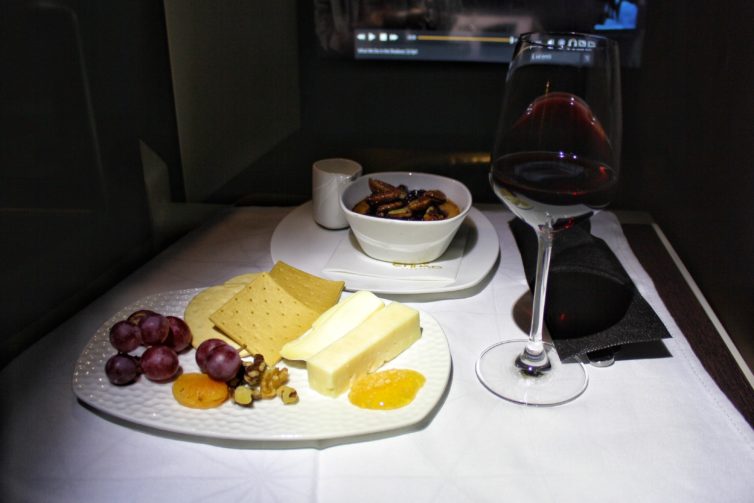 Overall it was a great dinner, and the efficiency of service was just as impressive. Tray-based service for the starter and main course didn't detract much from the experience, since it helped things flow more efficiently. And during each course a flight attendant came by at least once to make sure everything was OK.
With dinner done I settled in for the long haul. First I had some fun with the flight map, which showed us crossing the border into Canada. For devout Muslims, there's a screen that points out the direction of Mecca.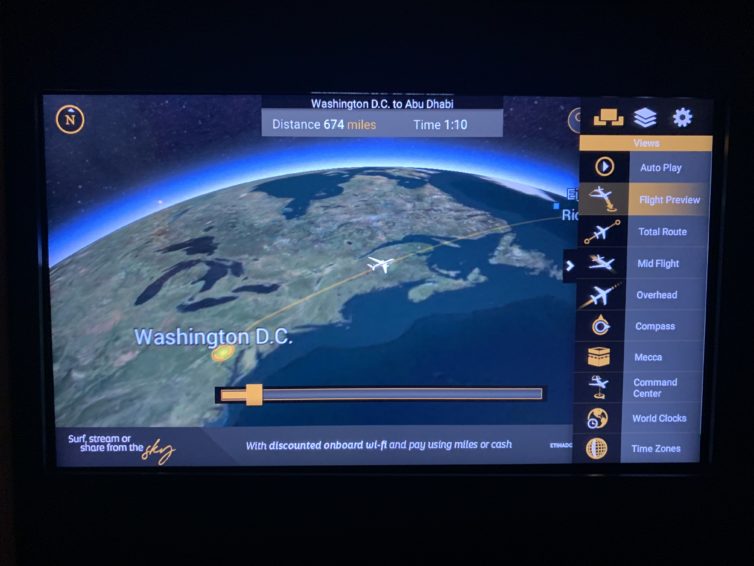 The biz class lavs were roomy and kept clean, though didn't have any extra amenities. Don't you love lavs with windows?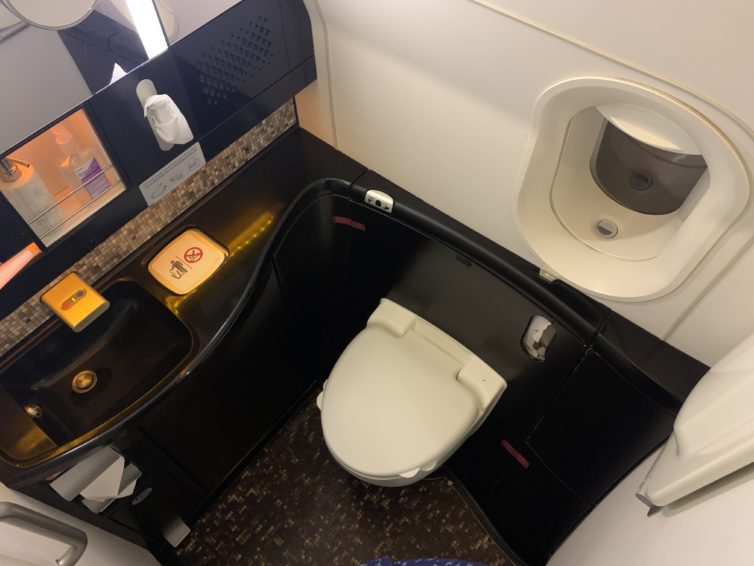 Etihad offers reasonably fast inflight wifi for purchase.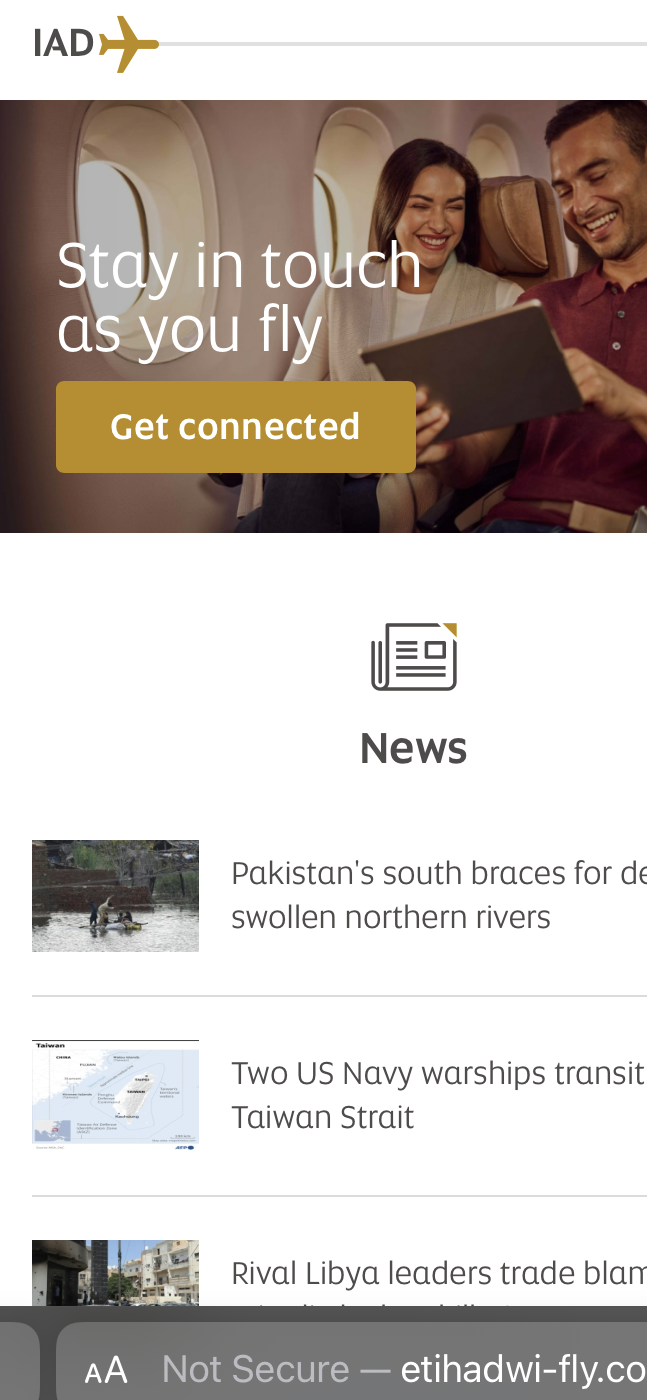 The inflight entertainment library isn't as expansive as on the other major Middle Eastern carriers, but it still offers plenty to cover a couple of long-haul flights.
On a side note, this flight was such a great example of the highs and lows of Dreamliner windows. On one hand, what could an AvGeek love more than the panorama-like views like these?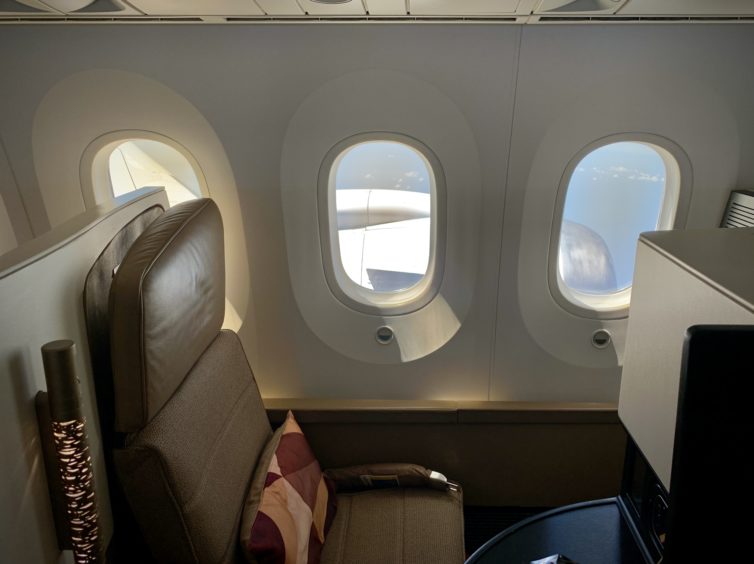 But when I was trying to sleep, even the darkest window setting let a ton of light through. Though I guess it could be a partial benefit if you're trying to enjoy window seat views without flooding the cabin with light.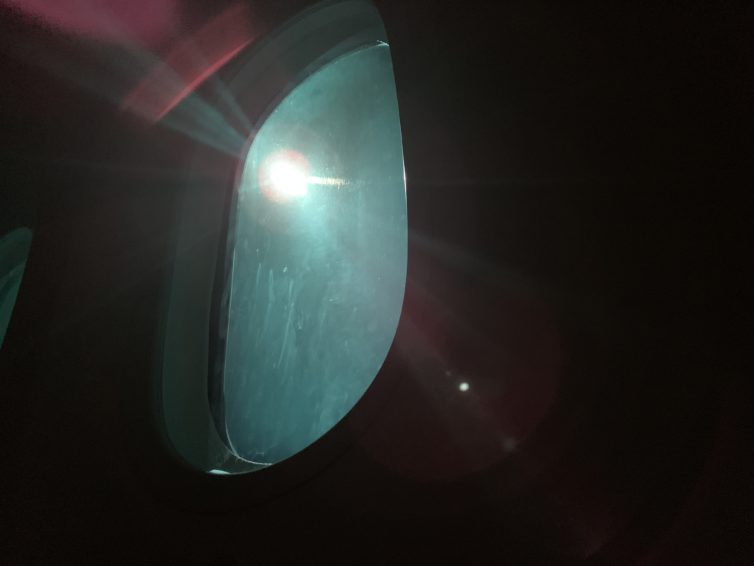 The seat converts to a fully-flat bed in just a few seconds. Etihad currently doesn't offer mattress pads but that's about to change — more on that at the end of this story.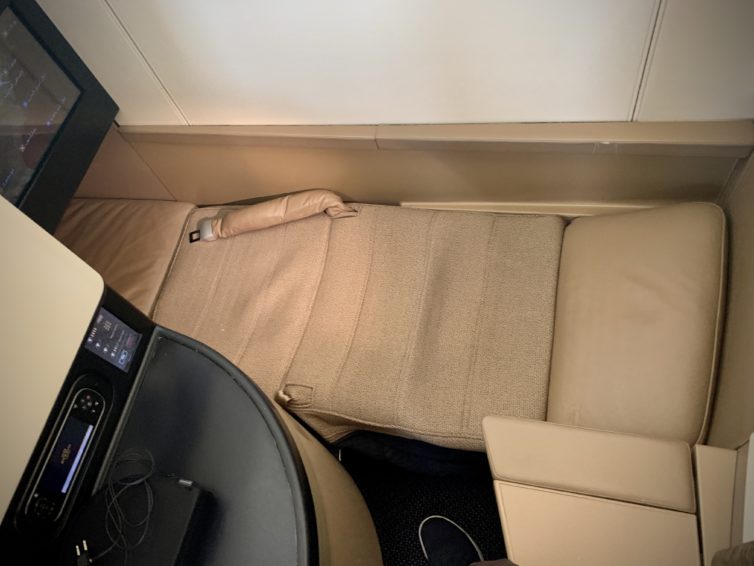 Dinner was filling enough that I didn't go for any midflight snacks, though there were options available to order. Two hours from landing the crew came around with a hearty breakfast service.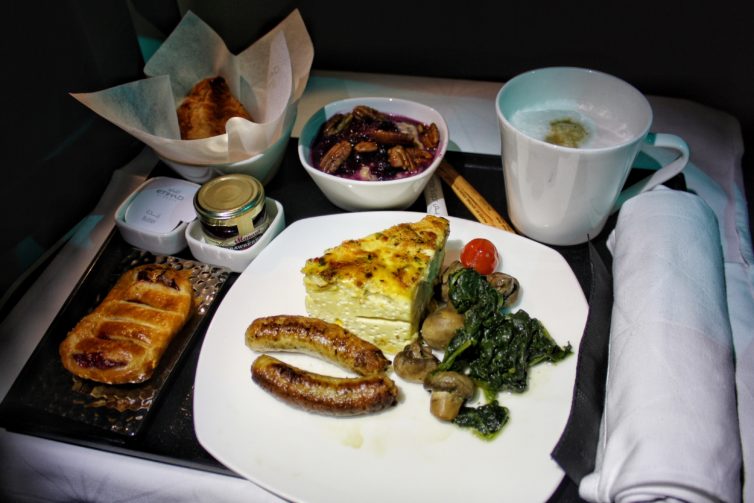 The views on approach into Abu Dhabi were unique, with a sea of desert suddenly turning into Emirati-style rapid development.
We'll be writing about the ground experience in Abu Dhabi separately. Because of the current terminal's limited capacity, some flights deplane onto remote stands. Which is probably annoying for most passengers. But it's amazing for AvGeeks. As you can see at the end of the video above, that Dreamliner engine cowling is a beauty from up close.
The Verdict
The million-dollar question after Etihad's cost-cutting years is whether the passenger experience still holds up. Based on this flight, it definitely does. There are a few features and frills that may be missing when compared with Etihad's competition. But the core features of a great premium cabin — an amazing seat, strong soft product, and great crewmember service — still shone bright.
Recently the airline has been offering discounted business class fares and attractive award redemption rates, making theirs one of the more accessible long-haul business class options in the Middle East.
And don't forget, Etihad is still taking delivery of their new A350 fleet that offers the same excellent soft product with an even better seat.
A Fresh Update to Etihad's Business Class
Last month, Etihad announced a major update to their business class soft product. It includes a complete redesign of tableware for meal services, with elements designed by Armani/Casa.
Premium cabin passengers will also get an improved turndown service with a mattress pad and redesigned bedding.
Some people in the blogosphere thought the announcement was blown a bit out of proportion. But hey, it's nice to see any airline continuing to invest in their product. We'd love to try the Constellation Collection out on a flight soon.
Now it's time to hear from you. What do you think about the Constellation Collection and our experience in Etihad's Dreamliner business class? Share your thoughts in the comments section below.