How's this for an AvGeek irony: it's hard to planespot from a plane. Sure, while you're on the ground there's tons of aircraft around. But once you're in the sky you're zooming by other planes so rarely — and so quickly — that it's hard to catch any of them. But one recent flight I took was a fun exception to that rule. 
Thanks to a winter wave of employee COVID infections and a high-profile system meltdown, Jetblue had a tough past year from an operational perspective. But they rebounded from those issues, and their onboard economy product still shines strong — especially the free high-speed inflight internet ("Fly-Fi").
Fly-Fi is one of JetBlue's major points of differentiation, and they know it
To minimize touch points in the COVID era, you can use your smartphone to control the screen
Fly-Fi is a high-bandwidth satellite-powered system that's now available across the fleet. It provides gate-to-gate connectivity so you could start using it from the moment you board. On my flight from New York to Mexico I waited to log on since there were great takeoff views to be had. 
On a side note, don't forget about our YouTube channel if you like aviation videos. 
I usually think most airlines' WiFi is too pricey and/or slow to be worth it. But on most JetBlue flights, Fly-Fi has been good enough for me to stream video. And on this flight, I realized I could use that same bandwidth to keep an eye out for other traffic. I thought it would be just a few minutes of fun, but I ended up keeping an eye on FlightRadar24 (my tracker of choice, though there are plenty of other great options) for the rest of the flight.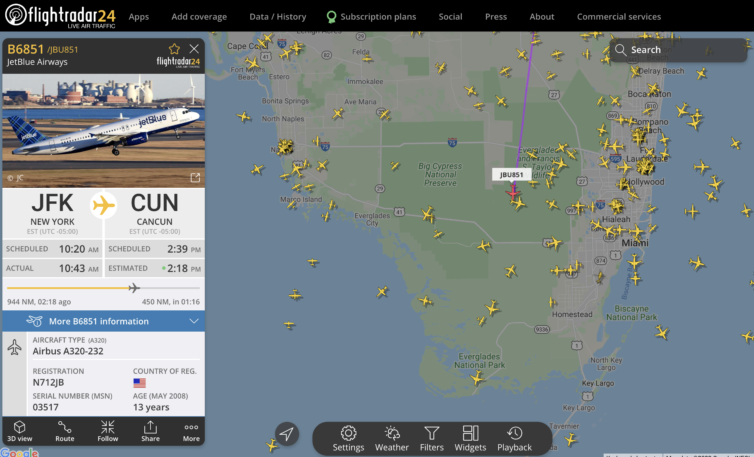 You really get a sense of how fast you're flying when you pass a plane headed the opposite direction. And there was a fun moment where we had a wingman flying at our level and same direction a few miles off of our wing. None of those encounters were close enough to make for great video from my phone camera — and I'm pretty sure ATC works hard to keep it that way. But moments like the quick video below — when another plane passed right above us — I 100% would have missed without having access to a flight tracker. 
Is this a major news update? Nope. But especially after two years of infrequent flying, I'm excited enough about even the smallest AvGeek joys.
Do any of you all use inflight WiFi to monitor traffic around your flight? Any other AvGeek inflight pastimes you'd like to share? Let us know in the comments section below.